Friday, October 31, 2008
Horror Movie Brides
I've never been much of a horror movie fan (yes, I'm a total chicken) and usually end up peering out from between my splayed fingers or examining the ceiling during the scary parts. But, today is Halloween, so we're celebrating horror movie brides!
I wracked my brain. The first one was easy, because of course, there's the Bride of Frankenstein.
Or…on the funny bride of Frankenstein front, Madeline Kahn's portrayal in Young Frankenstein. What fun!
And then there's Tim Burton's Corpse Bride.
That was the extent of my knowledge (I'm betting some of you could have thought of others), but when I went looking I also found:
Bride of Chucky
The Brides of Dracula
Bride of the Gorilla (I kid you not)
And of course, there's The Bride, a remake of Bride of Frankenstein, starring Sting.
I loved the old film posters from some of these. Some even had multiple posters and foreign posters. A few were rather racy, considering that they were made in another era.
I confess that I like the old ones best, probably because they're not too scary. When I watch these with my husband, who loves horror flicks, we can laugh at them and play along, pretend we're frightened and admire the filmmaker's ingenuity with the limited special effects that were available at the time.
So, how many of the movies listed here have you seen? Any other bride horror movies you can think of? I'm sure there are others. Probably even some obvious ones that I didn't think of.
Happy Halloween, everyone!
Labels: brides
Thursday, October 30, 2008
Wedding Bliss on a Budget
Today's blog comes from author Pamela Ford, author of The Wedding Heiress
, in stores now!

There's something about weddings that makes little girls (and grown women) dreamy-eyed. I think it starts the first time they hear the story of Cinderella and only gets more entrenched with time. My three teenage daughters are romantics through and through, and I like to say they learned it at their mother's knee! With the cost of the average wedding now in the neighborhood of $30,000, I hope they're also learning some frugality at that knee.
For the heroine of my latest release,
The Wedding Heiress
, frugality is the order of the day and happily ever after just a fairytale. Delaney McBride is an upwardly mobile career woman who is forced to go back to her hometown and take over her aunt's wedding planning shop in order to get her inheritance. Add in four other heirs, all of whom must perform unusual tasks in order to inherit, and Mike Connery, the girlhood crush Delaney never got over and, soon, she's up to her elbows in white satin, buttercream frosting, rosebud bouquets…and romance (read an excerpt at
http://www.pamelaford.net/
).
While writing this book, I read lots of articles about wedding planning and soon discovered that brides today are doing all sorts of creative things in order to cut costs and still get the wedding of their dreams.

One woman, upon learning the cake cutting fee would be $4 a slice, decided to serve cupcakes. Others are opting for Friday night or Sunday afternoon weddings. Still others are making the favors themselves, using candy kisses instead of truffles. A bride I know had her flowers done by a big grocery store's floral department - they were stunning and much less expensive. I even read about a couple who found it much less costly to bring in their own wine and pay the uncorking fee, rather than pay the per-bottle price charged by the reception hall.
So did you use any creative ideas to trim your wedding expenses?

Please share! I'll be taking notes because…have I mentioned I have three daughters?

Pam Ford
Wednesday, October 29, 2008
A Really Romantic Honeymoon Destination
Last weekend I visited Venice with my family (my daughter and son-in-law were visiting from Australia). It's about 6 hours drive from where we live in Switzerland. They call Paris the city of love - and you'll see later in the month from my son-in-law how romantic Paris is - but to me, Venice is just as romantic, and not just because of all those canals and gondolas (see pics).
I love the snaking little alleyways, the stories of Marco Polo (and seeing his house, and his family business building, still standing). Casanova's house (see second pic from left) is still there. The lion is the protector of the city, and they have little lion heads on almost all buildings. There are also knights, as we saw from our gondola, at Casanova's house (again, see pic) to protect the people from invasion. We were lucky to come on regatta weekend, after the Venice Film Festival (I believe there were loads of famous people still there, but we didn't see any). The regatta was wonderful - it's a series of gondola races rather than sailing boats. Each team dresses in the colours of their gondola, and pushes the gondola to victory.
As to sights, the Piazza San Marco (see third picture from left) was amazing, and really filled with thousands of pigeons (my son got covered in them, ick); the Doge's Palace was really exquisite, the clock amazing. There is a leaning tower just a few blocks from San Marco - we didn't know about it until we saw it (see photo of my son "pushing" it). On San Michele the is the famed Murano glass blowing, and you get a free trip out and tour with most hotel stays. It's amazing stuff - they display a lot in the stores and they do massive paint brushes to tiny ants, all blown glass.
There are tiny restaurants everywhere as well as the big, expensive tourist ones, with terrific pizza, risotto, pasta or western dishes, and a ton of fresh seafood (we found a fantastic courtyard restaurant when we got lost in an alley - terrific food!); there are tons of handbag sellers, gelato stores (indescribably excellent - I thought Swiss ice cream was great!), and stores for their famous masks (see inset, again with my son). We found a blues festival, markets in unexpected places, got lost in a delicious way, finding exquisite little houses and ancient churches, one with the best acoustics I've ever heard - St Maria something (sorry!).
We only spent two days there, and I could have spent many more. I'd thoroughly recommend it for a honeymoon destination - and not far away is the city of Romeo and Juliet, Verona; Florence is only a few hours away with all its exquisite artwork and museums; because it's an island, the ocean is right there as well as those canals. We got quite a good deal on a 4 star hotel online, and the rooms were very comfortable and the food for breakfast, very good.
On the way home, we drove through the stunning scenery of the Italian Tyrol Alps. (See last picture on right.) Well worth the 11 hours it took to get home, just seeing all this beauty. We've decided to return next summer for a few days of exploring!
Melissa
Monday, October 27, 2008
Share a recipe for a chance to win Linda's new book
Natalie the cake fairy here. A little birdie told me that Linda Goodnight has a new Harlequin Romance on the shelves right this minute! The title is THE MILLIONAIRE'S NANNY ARRANGEMENT and features another irrepressible little girl like my twins, only this little girl has a genius brain and a lonely heart.
Here's a teaser:
A child genius chooses a pregnant, down on-her-luck widow to be her mommy for hire. Now if millionaire daddy will only cooperate…
Doesn't that sound yummy? And speaking of yummy, Linda is letting me run a contest for a chance to win a free, autographed copy of the book! Being a baker, I'm always on the prowl for new recipes, so here's the contest. Share a favorite goodie or snack recipe for Halloween. Or if you don't celebrate Halloween, share a favorite recipe for fall, and you'll be signed up for the contest.
Just in case you don't win the free book, pop over to
Amazon
to read an excerpt and order your own for a heartwarming good time.
Off to bake my famous Black Widow Cookies!
Labels: Halloween recipes, linda goodnight, THE MILLIONAIRE'S NANNY ARRANGEMENT, wedding planners
Sunday, October 26, 2008
COMING UP FOR THE WEEK OF HALLOWEEN!
Monday Linda Goodnight (me) is blogging about a new book and a new contest.
On Wednesday Melissa James will be here with something fun and interesting as always.
And I can't wait for Friday when Myrna McKenzie will be blogging on the topic of 'horror movie brides' in celebration of Halloween. I'm already brainstorming my favorites!
Our very special guest this week is
Pam Ford
, the absolutely perfect guest for the Wedding Planners. Why? Because in her latest SuperRomance, THE WEDDING HEIRRESS, the heroine is a reluctant wedding planner! Pam will be blogging on the topic of 'Wedding Bliss on a Budget' and we'll get a sneak preview of that great new book.
So get ready for another terrific week of blogs and don't forget to comment. We love hearing from you.
Have a boo-tiful week!!
Labels: linda goodnight, wedding planners
Friday, October 24, 2008
The Divas Demand It
I admit it, I'm a reality TV junkie. Which means I'm hopelessly addicted to shows like
"Whose Wedding is it Anyway?"
I love watching those diva brides battle it out with their grooms, mothers and wedding planners, all to have the perfect Big Day. They have major meltdowns over cakes and rose petals, buy three gowns because they can't decide on one (and wear all three at various times on their wedding day), and in general, make life pretty darn miserable for everyone around them.

And what's more, they get away with it. Why?
Because they're the BRIDE. And what the BRIDE wants, the BRIDE gets. All caps, because that's pretty much how those divas act.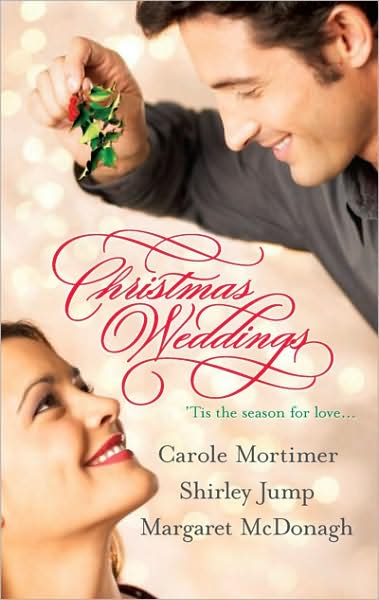 I wondered what it would be like to be on the other end of one of those divas, to be, say, the dress designer, which happens to be part of the plot of my October release in
Christmas Weddings
. I created a character, Marietta, who has to deal with a very demanding bride when she gets stuck in O'Hare airport at Christmas. Not only is her diva bride completely unsympathetic to Marietta's situation, but she's also calling constantly for moral support and last-minute counseling. Add to that Reed Hartstone, Marietta's old lover, and you've got a recipe for disaster (here's an
excerpt
).
There's a little more going on for my diva bride, though, than just a major wedding day hissy fit, and that's one of the things I got to explore in
"Snowbound Bride."
Her story wraps itself around Marietta's in ways that Marietta never expected--and turns everything upside down.
So tell me, were you a bit of a diva on your special day?
There's a description of bride types
here,
in case you're wondering. Or were you more laidback and easygoing? I was no diva (for one, I didn't have the budget! :-), and am glad I kept my wedding more low-key and easy for all involved. In the end, things may have been simple, but they were less stressful all around!
Shirley
Wednesday, October 22, 2008
Love and Writers
Tomorrow, Thursday, I'll be on my way to the New Jersey Romance Writers of America conference. This is one of my favorite conferences. I get to see old friends and make new ones. But, more than that, there is nothing like getting together with a bunch of people who love love!
A lot of people mistakenly believe romance novelists wear pink boas and think of nothing but sex, but the real bottom line reason most of us write romance novels is a belief that love matters.
Most of our books take heroes and heroines who are somehow broken or have an incorrect belief about themselves or life in general and show those heroes and heroines the impact and power of love.
Our books show love healing, fortifying, strengthening and sometimes just providing comfort and joy. Our books manifest the truth that frequently a person has to grow and change before he or she can accept love. Because real love is worth it.
Who wouldn't want to spend a weekend with three hundred people who all believe in the power of love!
I'll be back on Monday, my spirit refreshed, and ready to write because I believe that every book I write touches someone. Shows the way. Without being pushy or preachy, but simply by demonstrating the true power of love.
susan meier
Monday, October 20, 2008
The Wedding Dress Test
Serena, here, popping in to say hello! So much has changed since I last paid a visit. But I don't want to spoil it for anyone who might be new to The Wedding Planners so I'll just say I'm so happy I don't think a frown has touched my lips in months!
I ran across this little quiz and thought some of you might enjoy it, no matter what your marital status or desires. I took it and wasn't surprised by the answer! What about you?
What Your Ideal Wedding Dress Says About You


Your Personal Style:



Classic and elegant. You prefer to make a statement with a few quality pieces.



Your Ideal Wedding:



Traditional and formal, but not tacky. You think the most beautiful weddings are understated.



Your Philosophy on Marriage:



It's a serious commitment, and the couple entering it should be ready to work for their relationship.



Your Perfect Marriage:



Is calm, stable, deep, and meaningful.

Labels: melissa m, quiz, serena, wedding dresses
Sunday, October 19, 2008
Upcoming!
Thanks for all your comments on the blog this week! We hope you enjoyed the posts.
We're having fun blogging about weddings and things. It was great to have author
Michelle Douglas
stop by and tell us all about eloping! I ended up having two weddings. A small one on the East coast and a larger one a month later on the West Coast. Eloping seems like it would have been a whole lot easier!!
And all of us at The Wedding Planners are so proud of our Linda Goodnight. She keeps racking up the awards! Check out last Wednesday's post if you missed her most latest accomplishment!
This week on The Wedding Planners blog, we have a few things in store for you:
On Monday, Serena James, the Wedding Planner's dress designer and the heroine from SOS Marry Me, will be stopping by. Knowing her, I'm sure wedding gowns will have something to do with her post!
Wednesday, Susan Meier will be writing about romance writing conferences, brides and weddings. Susan always has a precious gem or two to share that's not only applicable to weddings, but life in general.
And finally on Friday, Shirley Jump has bride divas, like the ones you see on television, as the topic for the day. I can't wait to see what she has in store for us!
Is there anything we haven't talked about yet that you'd like to see discussed or a topic you might want revisited? Just let us know! Also if you have a wedding story of your own or wedding-related info you'd like to share on the blog, let us know. We're always on the lookout for guest bloggers whether they are writers, readers, brides, grooms and/or wedding experts.
Melissa M
Friday, October 17, 2008
What a Romantic Wedding...by Author Michelle Douglas
I've never been one of those pretty, frilly kinds of girls. When the other girls in the playground started that game – the one where they planned their future weddings in minute detail: dresses, venues flowers – I'd promptly slink off to play cricket with the boys.
Don't get me wrong I love a wedding as much as the next person. It's just that I didn't want one. All that planning. All the things that could go wrong. All that fuss! The thought made me break out into a cold sweat.
So I eloped.
Eloping is all about making things as fast, fun and stress-free as possible. And for what it's worth, my five golden rules for eloping:
1. First and definitely foremost – decide if eloping is right for you. Not everyone wants stress-free, princess-free or family-free.
2. Get a marriage license – laws vary from country to country and state to state. No marriage license = no marriage = sad face.
3. Find a venue – whether that is a courthouse in your home town, a wedding chapel in Vegas or a Balinese beach, you will need to be married somewhere.
4. Plan a honeymoon – eloping does not mean foregoing the honeymoon.
5. Get married – which is, after all, the point.
Additionally, it's wise to consider elopement etiquette.
1. Do tell your nearest and dearest what you're planning to do. This will help allay any hurt feelings.
2. Don't register for gifts.
3. Do have a celebration party when you return home.
So... was my day fun and stress free? You bet! Let me tell you about it...
London, January 26th 1998. The day dawned bright and clear. England was having one of its mildest winters on record. An auspicious omen? Absolutely. Furthermore, the day dawned bright and clear AND we woke up in time. Very auspicious.
I dawdled over my preparations, slipped into my chic little suit, while my tall-dark-and-handsome-soon-to-be dear husband set off to collect our wedding licence [to be eligible for said wedding license we'd had to meet a 21 day residency requirement.]. Then, with the wedding license clutched in our hot, little hands... drum roll please... we were off to be married.
We'd booked the wedding venue before leaving Australia...
Westminster!
The town hall, not the abbey.
At this point I'd love to tell you a story about grabbing people off the street and wheedling them into acting as witnesses, but I'm afraid we weren't quite that blasé. We'd organised for a couple of friends who were working in London at the time to step into the breach. We were all ushered into the Blue Room at Westminster Town Hall – to find it festooned with wattle in honour of Australia Day. We'd eloped to England from Australia to get married on Australia Day! The registrar and his assistant were full of goodwill, good wishes and plain old-fashioned good fun. We filled in the paperwork, we laughed and joked...
...And then suddenly we were exchanging our wedding vows. It was the most out-of-body moment I've ever had. My heart swelled until I could hardly breathe. I felt so light I thought I'd float up around the ceiling. Oh, yeah, and I had this really goofy grin on my face that I couldn't seem to wipe off (and I'd meant to be so cool and dignified).
We were married!
And it was wonderful.
Now it was time to celebrate. According to our dog-eared copy of Frommer's 1997 Guide to London, "the best hotel in London today," was The Dorchester. Guess where we booked our wedding night? Our two witnesses, the dh and I jumped into a black cab and headed straight there. We settled down in the bar – not too far from Liberace's piano – and we ate, drank and were merry.
Mid-afternoon: our two witness friends left and, as the cliché goes, finally we were alone. Our room – a double deluxe with four-poster bed and views of Hyde Park – was divine. In honour of our wedding day, the hotel had a complimentary bottle of champagne on ice and a dish of handmade chocolates waiting for us. Heavenly!
[An aside here because I can't resist: the bathrooms at the Dorchester are to die for – all grey Italian marble with bathtubs bigger than some swimming pools I've seen. Pure indulgence. Highly recommended.]
We didn't leave our room for the rest of the day or night. I had the most perfectly wonderful (and stress-free) day. What's more, I had a honeymoon in Paris to look forward to the next morning.
Would I do it all again without changing a thing? You bet.
For a chance to win a copy of– HIS CHRISTMAS ANGEL – the only book I've written so far that features a wedding, tell me where you'd elope to if you had the choice?
- Michelle
Wednesday, October 15, 2008
My Good News!
This has nothing to do with weddings, but I just had to share my exciting news. The last of my "Brothers' Bond" series, THE HEART OF GRACE, was named the 2008 short contemporary Book of the Year by the American Christian Fiction Writers (ACFW). I didn't attend the conference in Minneapolis where the award ceremony was held, but a dear friend and wonderful author, Janet Lee Barton kindly accepted and carried the plaque home where she presented it to me at our local writers' meeting.
I was truly not expecting to win the award again, or I would have made the trip. (Last year, the first book in that series, received the same award.) Who knew that all three of 'my boy's' would struggle up from their humble beginnings to win major writing awards—Two Books of the Year and the RITA.
I am blessed.
Labels: ACFW, Book of the Year, linda goodnight, The Brothers' Bond, The Heart of Grace, wedding planners
Monday, October 13, 2008
The Dress...After the Wedding
Last week (October 8th) Melissa posted a video where...well, there was a bit of an accident (and if you missed it you have to go back and look). Let's just say that the wedding dress was probably never the same after that.
Which sent me off on a tangent, thinking about the lives of wedding dresses. What do people do with them after the wedding? Having rented mine, I just took it back to the shop. Lots of people obviously have them cleaned and heirloomed and store them, maybe even pass them on to another family member. But what about the people who don't want to go that route? What are some other options?
You could donate the dress to this charitable organization:
Other suggestions I came across consisted of more drastic (although useful and sometimes loving) ideas, such as cutting the dress up into squares to make a quilt or making the dress into a christening gown. One woman used the fabric to sew baby outfits for a local hospital. Another had a seamstress make teddy bears out of her dress and gave one to each of her grandchildren with a personalized message on each one.
Many of you may have already heard of
Trash the Dress
. Brides hire photographers to take photos of them in their dresses as they destroy them in unique ways (the site is a bit difficult to navigate, but if you click on the Archives and move to different dates on the calendar--in blue--you can see some of the handiwork). Some of the photos are gorgeous and striking.
My personal favorite is the photographer who is the photographer who took the thousand dollar dress her mother had given her and went out on the road to photograph 1,000 women with the dress.
Thousand Dollar Dress
is a fascinating site with a unique story and some gorgeous photographs.
So, what did you do with your wedding dress (or what would you do if you had that choice to make)?
Labels: wedding dresses, wedding photos
Sunday, October 12, 2008
Amazon.com Gift Certificate Winner!
Dru wins the $5.00 gift certificate from Amazon.com for posting a comment on my post about the
Ring Exchange Fail
. I used a random number generator to pick the winner from all who had commented.
I was only planning to give out one prize, but Julie Hilton Steele's comment made me laugh so I'm going to send her one, too! I love your scenario, and I'm right there with you. The groom should have jumped in. I'm sure Jared, Dell, Kane, Cooper, Dominic or Matt would have been right there in the water with their Wedding Planner bride.
Would Dru and Julie please send me their email addresses via the contact page on
my website
. Thanks!
Labels: contest, wedding rings
What's coming up this week at The Wedding Planners?
Well, we're full steam ahead into our new schedule (Sunday, Monday, Wednesday and Friday with the occasional Tuesday and Thursday guest), so keep dropping by. We love chatting with you and talking weddings.

Tomorrow, I'll be discussing the strange and interesting things people do with their wedding dresses once the wedding day is over.

Linda Goodnight will be here Wednesday, October 15th and on Friday, October 17th Michelle Douglas will be blogging about her super romantic wedding and giving away a book!
Friday, October 10, 2008
Wedding Goals!
It's that time of year again, when I begin pondering my goals for the next year. This year, I'm even giving a workshop on the cataromance writers loop on Goal Setting just to keep me moving, so that I follow through and write my 2009 goals BEFORE the rush of the holidays!
As I was looking at the seven steps for goal setting, this morning, in preparation for that workshop, it occured to me that future brides, mothers of the bride and anyone participating in a wedding next year might benefit from reading the seven steps!
1. Decide what you really want
2. Write your goals out on paper
3. Determine the price you have to pay
4. Make a plan
5. Take action immediately
6. Do something every day that takes you to your goal
7. Resolve in advance that you will never quit.
Number one probably seems funny to a bride. What she wants is obvious! To get married. But if a bride or mother of the bride or bridesmaid takes number one seriously, she'll decide what she really wants from the event. Does she want the best wedding in the world? Or does she want her guests to have fun? Deciding this in advance can clarify what's most important and make choices easier!
Number two...Write your goals out on paper is good advice! Keeps notes on everything and you won't forget important phone calls or the results of phone calls! You also won't forget to order the cake. LOL
Number three...Determine the price you have to pay [to get what you want]. We talked about this when we discussed budget in August. Decide in advance what you want, figure out how much it's going to cost, and then figure out what you are going to have to give up to get what you want. You may need to cut your Christmas shopping budget in half in order to assure you have enough money for the upcoming wedding!
Number four...Make a plan. If you're the bride, mother of the bride or a bridesmaid, you have responsibilities. Some will be easy to fulfill. Others will take some thought. Don't assume that everything will fall into place! Make a plan!
Number five...Take action immediately. Don't say, someday I'm going to make a plan! Buy your notebook, jot down your goals, take a few minutes to organize how you're going to make your end of the wedding a true success.
Number six...Do something every day that takes you closer to your goal. This might sound odd, but think about it. If one of your goals is to lose weight before the wedding...You MUST do something every day to accomplish that goal. Don't put everything off until the last minute!
And number seven...Decide in advance that you'll never quit!
It seems kind of funny to read #7, decide in advance that you'll never quit...because really, if you're the mom of the bride can you quit? LOL If you're the bride you don't want to quit!
But the purpose of number seven is to force you to make a promise to yourself that no matter how difficult the situation gets, you won't quit or make idle threats to quit! Deciding in advance that you'll never quit should also come with a pact to yourself that you'll be agreeable. You'll work to make the wedding as much fun for everyone as possible!
And that's really what's most important. Weddings are the most wonderful events! The day in our life that everybody remembers.
Last week, when we visited my aunt a few hours before she died, we found her surrounded by her friends...lifelong friends, two of whom had been her bridesmaids. Someone had brought the black and white group picture from her wedding and we stood at her bedside and talked about her special day.
For those few hours it was as if she, Edyth and Pee Wee were those young girls in the satin gowns, smiling fondly at their men, and laughing over private jokes.
No one remembered the wedding meal or even who the band was. They remembered how happy they were, how close, and how those bonds of friendship had never been broken.
That's what you really want from your wedding.
susan meier
Wednesday, October 8, 2008
Ring Exchange Fail...
I came across this video on YouTube. Embedding was turned off, so you'll have to click
here
to watch it.
Oh, my! Could you imagine if you were that bride? Of course, I'm sure the best man felt horrible. But how would you ever make up for what you did????
Here's what I want to know...
1) What do you think happened next?
2) Will they laugh about this in the years to come?
Tell me what you think in the comment section and I'll pick a winner from those who do on Sunday, October 12th. The winner will receive a $5 Amazon gift certificate!
Labels: best man, contest, outdoor wedding, wedding rings
Tuesday, October 7, 2008
Still Teary After All These Years...
The kids and I were going through a bunch of old photos a few weekends ago, and we came across the wedding photos from my wedding (and if my scanner was cooperating, I would have some up here, but my scanner hates me ever since my house got hit by lightning). Anyway, it's been nearly two decades since I got married and still, I get teary when I look at the pictures.
Of course, I'm also one of those people who cries at
movies
with weddings in them. I cry when they fall in love. I cry when they get married. I cry when the credits roll.
Maybe it's the catharsis thing. Maybe I'm just a big crybaby, LOL.
But when I dug out the photos of my wedding and showed them to my kids, I had to take a moment because I was all choked up, remembering that day. The kids thought it was funny, of course, and just laughed at me, at the photos, at people's outfits. They're kids, after all ;-).
How about you? Do you have a favorite movie or movies that make you cry every time? Do you cry during the wedding scenes? I love Runaway Bride, which is why I picked that one, but you name just about any romantic comedy, and I'm your girl.
Just be sure to bring the Kleenexes ;-)
Shirley
PS: I have a new book out today --
CHRISTMAS WEDDINGS
, which is guaranteed to bring you a tear or two ;-) Look for it in stores everywhere!
Monday, October 6, 2008
Wine, Great Food and Castles - Who Could Resist This?
Since we moved to Europe, I've had opportunity to visit many romantic places that would be a fabulous honeymoon destination: Paris, Rome, London, Bute in Scotland, Geneva, the Alpine resorts...
And Alsace.
Where's that? In eastern France. If you've studied WWI history at all, you'll know it as the area fought over by Germany and France for centuries. After WWI it was given to France by the Allies. And when I visited, as I have a few times now, I can see why they fought so hard over it.
Alsace is a truly beautiful area. Sloping hills and mountains, castles and romantic ruins on so many hilltops, grapes growing beneath them; colourful, beautifull-decorated villages over a thousand years old (such as St. Hippolyte, where we stayed - stunning), medieval villages that have remained in pristine condition; food that dates back to that time, still served the traditional way and totally delicious; wines that have been made by hand for hundreds of years, and the delicious Eau de Vie, a kind of flavoured brandy...
What's not to like???
While there, we walked through hillsides with vines a thousand years old. We visited the magnificent castle of Haut-Koenigsburg (first built in the year 784, apparently), renovated by the last German Emperor before the war (it burned down during one of many fights). It's amazing. The Germans restored the castle to all its medieval glory. There's a full armoury, weapons room, cannons dating back hundreds of years, and views across the entire region. They also have audio guides in English, which is a great way to learn the history of the castle.
The local wineries and restaurants, many in those medieval villages, date back hundreds of years. You walk down uneven, hand-hewn steps to underground cellars, with hand-made bricks, to taste wines made the same way since medieval times. While there, the tarts and macaroons in the local patisseries are excellent, and you taste for free! The meals - such as Alsace pizza (you haven't lived till you try one!) and garlic pizzas, are magnificent, and they have wonderful menus, both with meat and vegetarian.
There's so much to do and see. There are sanctuaries for endangered animal such as South American monkeys and eagles, where they have thousands of acres to roam free safely. There are still villages with walls and the remains of moats surrounding them, and cobbled streets dating back to the 13th century such as Riqwihr. There are the remains of WWI and WWI defences both in small villages and places such as Nancy and St Die, for war history enthusiasts. Nearby is beautiful Strasbourg, with its stunning cathedral (and fabulous handmade chocolate stores!). And there are beautiful hotels, mini gondola rides in the town of Colmar, which has a few canals of its own. Selestat is a very old city, with many buildings and churches dating back hundreds of years...including for any conspiracy theorists, churches built with the secret sign of the masons in the stained glass windows. ;-))) The entire area is lush and green, filled with fruit trees and grapes, and tiny places to explore at leisure.
In short, I'd recommend Alsace as a beautiful honeymoon destination, especially in late spring or early fall, when visitors have dropped off a bit, but the days are warm and long, all the better for exploring.
Melissa
Friday, October 3, 2008
The Ultimate (But Still Squeaky Clean) Bachelorette Party
The subject of bachelorette parties came up in a conversation the other day (and how difficult it was to plan one). I wondered what the status of bachelorette parties is today, so I did a little research. Here are some ideas that are floating around on the internet:

A sleepover complete with movies from the bride's teen years. Revive some silly girl games (paper fortune tellers, anyone)?

A spa day

Super dress-up evening, princess style, complete with long dresses and super hair. Don't forget the fabulous slippers, outrageous makeup and the pink champagne. Tiaras and cheap costume jewelry, anyone?

Go Broadway, or whatever theater happens to be in your area. Dinner beforehand and dessert after.

Set up a murder mystery. If one of your group is creative, write your own to make it more personal. (Or have each person create her own fairy tale--on paper, via collage or other art..or whatever suits her fancy). Be girlie girls and have a great time.

Go shopping to the most exclusive store you can all afford. This is a once in a lifetime event.

Have a luau.

If you live near a body of water, take an evening cruise or a dinner cruise.

Make it a full weekend getaway if you have time. Take in museums or other local sites.

Play rock stars and have a karaoke evening.

Have a costume party. Make the rounds of the town in disguise.

So, how about all of you? Anyone have any fun or interesting bachelorette stories that can be shared in this G-rated forum? How about other unique ideas you've heard of?
Thursday, October 2, 2008
An Unusual Wedding or Honeymoon Destination
In 2006, I was lucky enough to get a trip to Britain, my first trip to anywhere in Europe. I had a free flight and chose to go to the traditional home of the Royal Stewart family, the Isle of Bute, an island in the Firth of Clyde at the base of the romantic Highlands. I did Highland Dancing in my youth and, my grandmother being born in Glasgow, I wanted to visit my heritage. I was writing a book that's partly set on Bute, so was avid to research the place. Avoiding the hotels, I found a 220 year old pub with uneven stairs, friendly locals and great meals, and stayed.
It was April. It was freezing for this warm-blooded Aussie. But it was fascinating. From its lovely bay harbour to the high hills, to the ruins of the Stewart Castle, Rothesay Castle, to Pictish forts and standing stones to churches apparently built by St Ninian and Blane in the sixth centuries, I was out from morning to night. I loved the low stone fences and moss-covered rocks on farms. I adored the old people who could walk when I wimpishly took the bus. But I did tackle the "Mull of Kintyre" - the mist blown in by howling winds in April - and stinging rain on a few occasions, even though I thought my nose would fall off from the cold! Fortunately there's an excellent bus system that takes you almost anywhere. I'm sure the drivers and locals were dying to know what I was doing, scribbling in my notepad and taking the weirdest pictures...
The history of Bute is amazing, and the stately homes built by lords hundreds of years ago still stand today. The history of the Stewart family (the current Marquess of Bute, a descendant of the Stewart that was Prime Minister of Britain in the 18th century, still has a home there, Mountstuart). Almost everywhere you have that sense of ancientness, of a rugged and timeless beauty, and a feeling that life will go at its own pace.
So...why a wedding or honeymoon destination? Well, I think Bute has some fantastic locations to get married. There are historic castles, magnificient mansions or even some ancient standing stones that date to pre-Christian times. Summer is your best time - it doesn't get much above 20 degrees Celsius there (70 degrees Fahrenheit), but if you're a history buff, to have a wedding setting you and your guests will never forget, or just want time to stand still on your honeymoon, I'd thoroughly recommend the Isle of Bute.
Melissa
Wednesday, October 1, 2008
Romance
September was the last month featuring a release from our Wedding Planner series. We're continuing the blog because we haven't run out of topics to discuss or guests, so we hope you'll continue to join us.
One thing we've all shared on this blog is a true love of a good romance!
This weekend my husband and I were cleaning up after a two-day session of tearing out carpet as we prepare to lay hardwood floors in our upstairs. Washing a cup, he turned to me and said, "Do you remember the first house we lived in? How the sink in that horrible kitchen was always backing up?"
Of course, I did! I'm a woman. We don't forget our first anything! LOL
From that house, we went through years of memories. The birth of our first child. How much we spoiled our only daughter. How proud we were of our youngest who served in Iraq and now works for a Congressman.
My husband has had as many back surgeries as I had pregnancies. No connection, except that both required hospital stays. We've had four cats. Three living room sets. Only five televisions. (No large screen for us yet.) We've lived through VHS and Beta to CDs. We laughed remembering when my one boss told me computers were a passing fad, now we can't live without one. We paid almost as much for our most recent car as we paid for our first house...yes, it's true. And I swear to God, I'm not really THAT old.
As it rained, and our children went about whatever it is kids do nowadays on Sunday nights, my husband and I finished the dishes, cleaned the kitchen, swept up dust and talked about how we got to where we are right now. And suddenly I realized how romantic it was. My husband's not much of a talker. Lots of times I wonder if he's even paying attention. But from the things he said Sunday night, I realized he'd paid as much attention as I had. Maybe more. And he was as awestruck as I am that we'd not only made it through the years with a sick child, sometimes sporadic income, and totally opposite personalities, but also that we still like each other.
But more than that, we'd been happy. Very, very happy. And then he kissed me. One of those really great kisses that says more than a thousand words.
Sigh.
We worry sometimes that the romance will diminish as time goes by. As new brides we might wonder if our husband will love us when ... well, we're not quite as young or pretty.
But romance -- real romance -- doesn't die. Real love deepens. And romance is sometimes found in the most unexpected places and at the most unusual times. Take a breath and look around you, don't miss the real romance of life!
susan